Process Plant Optimization With POSy-System
Our plant optimization processes also include POSy-SystemTM, as part of our business alliance with Paradox Engineering & Technology Canada, SERVICES | pent (paradoxengtech.com). The POSy-SystemTM optimization methodology is a true multivariable orthogonal resolver whereby it solves for the most optimal of a set of multivariable Set Points, Outputs, System Gain, and Nonlinear Relationships or other Disturbance Variables. POSy-SystemTM can be integrated within existing Distributed Control Systems (DCS's), Programmable Logic Controllers (PLC's), and in existing Advance Process Control (APC's), and works as an APC / Optimisation numerical engine.
The diagram below illustrates 3 Controlled Variable set-point trials, where A, B & C are considered from other influential strategies to determine the desired true Optimized Set Point X. POSy-SystemTM solves for all of the Optimal Set Points simultaneously over the defined operational scenarios.
Problems With Existing Systems :
3 existing systems – experiential, statistical, and predictive methods
All of these systems are not precise
Large errors are generated (predictive method)
Time consuming and therefore very costly
Dynamic changes cannot be captured
No guarantees – you get what you get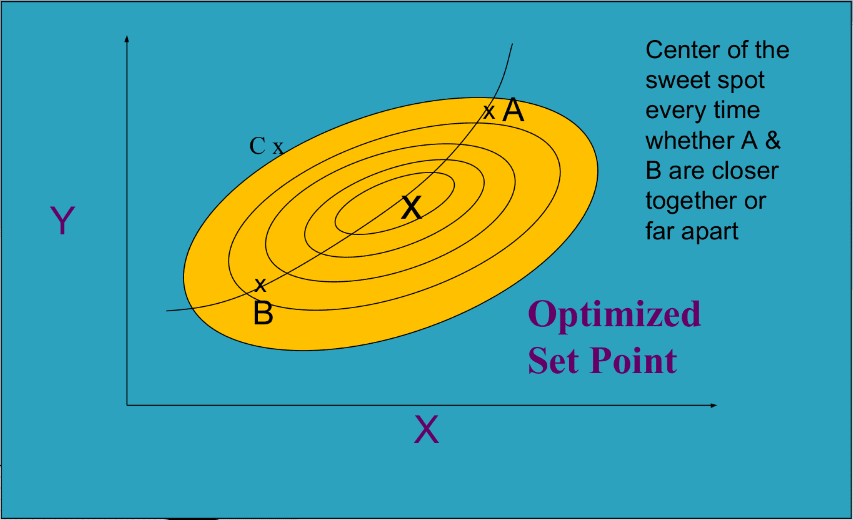 Alleviation of Problems:
Work from the top down instead of bottom-up
About 10 x faster (cost-effective) than traditional methods
Solutions are much more precise with 95-percentile accuracy
Error generated is minimized
System more easily adaptable to dynamic fluctuations and trends can be determined
Increases efficiency/productivity,
Improves quality and reduces waste all at the same time
Provides an excellent Return On Investment (ROI) for consumers (and investors)
Considered disruptive technology
How does it work?
Advanced Process Control with POSy-System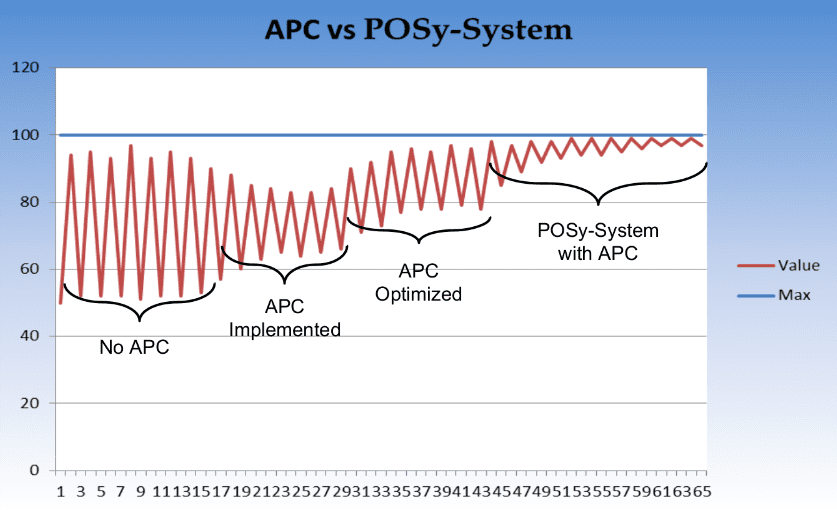 What processes have been tested?
Most testing has occurred for manufacturing – non-Newtonian fluids (non-linear systems): achieved 12% to 23.5% efficiency improvements
Have worked with modelling software in industry: thermodynamic modelling software – works well
Have worked with modelling software at U of A: simple mixing (works well); SAGD (works well); and Tennessee Eastman Process & HYSYS (works well)