SAROM GLOBAL proudly extends its expertise as your trusted partner in advanced process plant design, process plant construction, and engineering solutions. With a solid commitment to excellence, we specialise in PLCs, automation, control & electrical systems, catering to a spectrum of industries. Our comprehensive range of services covers every phase of the project lifecycle, ensuring flawless engineering procurement construction integration.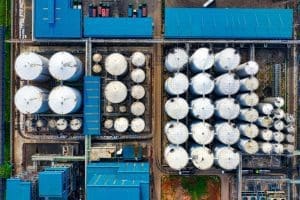 Efficient Process Plant Design
A robust process plant design is the foundation of a successfully operating plant. Our team of skilled engineers excels in engineering design and structural engineering that prioritises process optimisation. We combine pioneering technologies and our process engineering expertise to guarantee optimum efficiency.
Precision in Construction and Integration
We carefully put together reactors, pressure vessels, and distillation units during our process plant construction phase. Our competence even extends to refrigeration and cryogenic systems, proving our diverse capabilities. Furthermore, we arrange and coordinate process control & automation systems, instrumentation, & electrical components with extreme care to ensure seamless system integration.
Revolutionising with Automation
We are at the forefront of the automation revolution and modernising industrial process plants. Our engineers specialise in control systems, skillfully programming PLCs and DCSs. Their proficiency further expands to the control & automation of cabinet and system manufacture, guaranteeing better efficiency in the long run.
Empowering with Electrical Expertise
Electrical systems are the lifeblood of any industrial setup, and our services extend to capacitor LV, MV & HV solutions. We possess a deep understanding of obsolete electrical switch gear parts manufacture, ensuring that your systems remain up-to-date and functional.
Comprehensive Process Plant Design and Construction Solutions
Our commitment to excellence is clearly visible in every aspect of our services. From engineering design and piping design to process plant construction, we complete every project with extreme caution. Our services further include commissioning, instrumentation, structural engineering, and other holistic solutions as per your specific needs.
Plant Maintenance and Beyond
Our engagement doesn't end with project completion. Along with process plant engineering, we also offer ongoing plant maintenance services. This ensures the longevity and smooth operation of your systems. With a sharp focus on attention to detail, quality, and compliance, we will help your business grow.
Rejuvenation of Obsolate Instrumentation and Control Systems
Our competency lies in the re-manufacture and overhaul of end-of-life equipment. We restore your obsolete systems and seamlessly align them with existing standards. Our specialists are well-versed in dealing with electromagnetic components like coils, inductors, and motor rotor bars. Furthermore, we have a distinct mastery of cryogenic electromagnetic coils, pushing the boundaries of technological innovation.
Our Work Approach for Process Plant Design and Construction
Conceptualisation and Engineering Design.

We begin by understanding your project goals and needs. Our experts then create detailed plans that lay the groundwork for a successful project.

Incorporating Cutting-Edge Technologies: Innovation is key. We use the latest technologies to enhance your plant's efficiency. From automation to control systems, we ensure your systems are optimised for peak performance.
Seamless Integration of Elements: We excel at bringing different parts together seamlessly. Whether it's reactors, pressure vessels, or control systems, we ensure everything works in harmony.
Thorough Testing and Commissioning: Quality matters. We rigorously test and commission every part before your plant is ready to operate. This guarantees smooth operation right from the start.
Ongoing Support and Maintenance: Our commitment doesn't end with project completion. We offer continuous support and maintenance, ensuring your plant functions reliably over the long term.
Construction: Perfection is the core of our construction phase. Our skilled team assembles and installs components with precision and attention to detail.
Why Choose SAROM GLOBAL for Your Process Plant Design and Construction Project ?
Expertise That Counts
By choosing us, you're selecting a team of seasoned professionals with real-world experience in process plant design, construction, and engineering. We are well-versed in every aspect of the industry, from engineering design to control systems, ensuring that your project is in capable hands.
Custom Solutions for Your Unique Needs
Every project is unique, with its own set of challenges and requirements. Therefore, we carefully plan and design custom solutions that align perfectly with your project parameters. Our approach is about crafting a solution that's tailored to your specific needs.
Cutting-Edge Technologies
We believe in staying ahead of the curve by incorporating the latest technologies into our processes. From process optimisation to process control & automation systems, our solutions are infused with innovation that can propel your business to new heights of efficiency and productivity.
Seamless Project Management
We are not just technical experts! We are specialists in impeccable project management, too! Our capabilities ensure that your process plant design and construction project progresses smoothly from start to finish. We keep you informed every step of the way, keeping communication transparent and honest.
Quality Assurance at Every Stage
Quality is at the core of everything we do. This includes everything from design to construction and final testing. We ensure that every component meets the highest standards. Our commitment to quality guarantees the reliability and longevity of your systems.
Holistic Approach
Our services go beyond construction and design. We offer a multi-disciplined approach that involves commissioning, instrumentation, plant maintenance, and more. This means you will have a specialist by your side for the entire lifecycle of your project, ensuring its continued success.
Customer-Centric Philosophy
At SAROM GLOBAL, you're not just a client – you're a valued partner. We prioritise your satisfaction and success above all else. Our team is dedicated to understanding your needs, addressing your concerns, and delivering solutions that exceed your expectations.
Proven Track Record
Our track record speaks volumes about our capabilities. We've successfully completed numerous projects across various industries around the globe, earning our clients' trust and satisfaction. By choosing SAROM GLOBAL, you're choosing a partner with a history of excellence.
Commitment to Sustainability
We understand the importance of sustainable practices in today's world. Our solutions are designed with a focus on minimising environmental impact while maximising efficiency. With SAROM GLOBAL, you can embrace eco-friendly practices without compromising on performance.
Your success is Our Priority
We care about your success just as much as you do. We're motivated by a strong desire to transform challenges into opportunities, and we're committed to helping your business grow with our knowledge and skills.
Make the right choice for your process plant design, construction, and engineering project. Choose SAROM GLOBAL and embark on a journey of innovation, quality, and excellence. Contact us at 61 2 8317 5089 today to take the first step towards a brighter industrial future.